Sports fraternity is amazed at his wizardry of Mustafa, who joined Nagaraj Tennis Centre at five and started taking professional training. By the time he is six, he started playing non-AITA club-level. He tasted his first success, when he was eight, at his maiden attempt at the AITA national U-10 tournament.
Let us welcome and cheer another Mahesh Bhupathi, Leader Paes and Sania Mirza in the making. We have an emerging Tennis star in Mustafa M Raja, who has phenomenal skills and extraordinary abilities. He is all set for the global arena.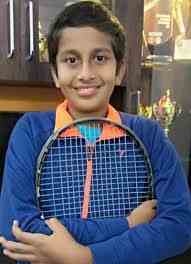 As of now, he has 21 AITA titles (16 winning and five runners-up titles) under his belt. He has the extraordinary record of winning 10 U-10 titles.
Mustafa has already won three singles and doubles in the U-12 section. Mustafa won AITA U-12 doubles, Super Series held at Guwahati, Assam in July 2017, apart from winning a grand double in Bengaluru by winning both singles and doubles title at the AITA Championship Series U-12 Tournament. He is also recognized as a fierce competitor for even U-14 players after winning an AITA U-17 event as the runner-up.
His father Murtuza told the Times of India, "It was my dream that my child plays tennis and win the Wimbledon and other Grand Slams and Olympic medals for India. The day Mustafa was born on January 20, 2007; I made him hold a tiny crystal tennis racquet, which was gifted to me by my friend. He has held a proper tennis racquet since he was six months old."
Mustafa's father Murtaza runs a hardware store with a partner. Murtaza supports his son and accompanies Mustafa to all his tournaments as well as his coaching schedules. Mustafa's mother Farida is a private employee. She makes sure that his tennis doesn't affect his usual studies.
Mustafa follows a disciplined schedule. He starts his day by 5:30 AM, and after a rigorous goes to school. In the afternoon, he attends practice sessions at 2 PM. He obtained permission from his school to leave an hour early. After practice, he does the school work until 9 PM.
Mustafa is one of the few kids from all over the world to be chosen by Rick Macci Tennis Academy. There he will take part in a month-long training.
His twitter handles says it all, "I am a 10-year-old tennis player from Mysore. Have already won 10 AITA 10 and Under titles and 4 AITA 12 and Under Titles and 4 other AITA Runner Up trophies."