Jaipur, the capital city of Rajasthan, is the city full of surprises. Named as the Pink City of India, the city is famous for its fascinating historical monuments, and if you wonder whether Jaipur is the place just limited to magnificent arcades, then you might need to reconsider your thoughts about this gorgeous city beautifully lit up when the sun goes beyond the horizon. As the sweet surprise unfolds, you would be delighted to know that Jaipur has an incredibly vibrant nightlife and the crowd is full of action and life.
This article will provide you with a list of places to visit in 'the pink city 'at night so that whenever you happen to land on Jaipur, you have a couple of choices with you to spend your time with your loved ones.
1. AMAR JAWAN JYOTI
Amar Jawan Jyoti is situated in Lalkothi, near Jaipur Nagar Nigam this is the place where your heart will be filled with patriotism as the structure is constructed in the remembrance and to pay homage to soldiers of Jaipur who gave up their lives protecting our country India. This is a 20 blocked memorial with a museum as well. The place is open 24×7, but one can enjoy a musical light show at night between 7:30 to 10:00 pm. The light show ends with a commentary telling about the history of warships the country has gone through. The entry to the memorial is free of cost.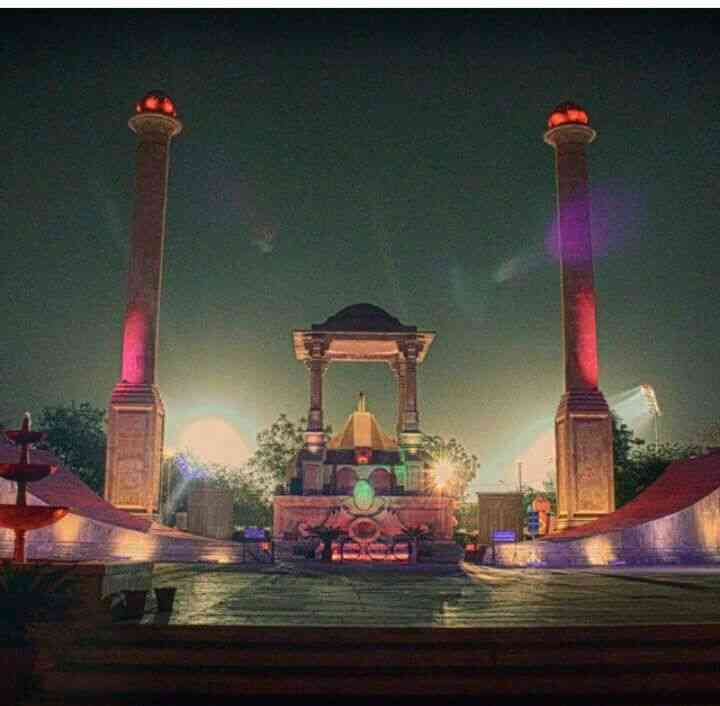 2. NAHARGARH FORT
If you want to witness one of the most beautiful sunsets, then Nahargarh Fort is the best place to view the hot red ball slowly moving down the zenith as the whole city of Jaipur starts twinkling resembling the starlit sky. The mesmerising view of the city and sunset will be framed in your heart forever. Although entry to the Fort is still 5:30 in the evening but you can rejoice this stunning view from the entrance of the Fort. Padao restaurant nearby will be a nice stop to relish a wholesome multicuisine meal, and it is open till 10 in the night. Entry fee into the Fort Rs 200/- for overseas visitors Rs 50/- for Indian tourists and Rs 25/- for students. The fort is about 6 km from the main city of Jaipur and opens at 10 in the morning. One can hire cabs or shuttles to reach the entrance of the Fort through a serpentine-like path from the foothills of the mountain.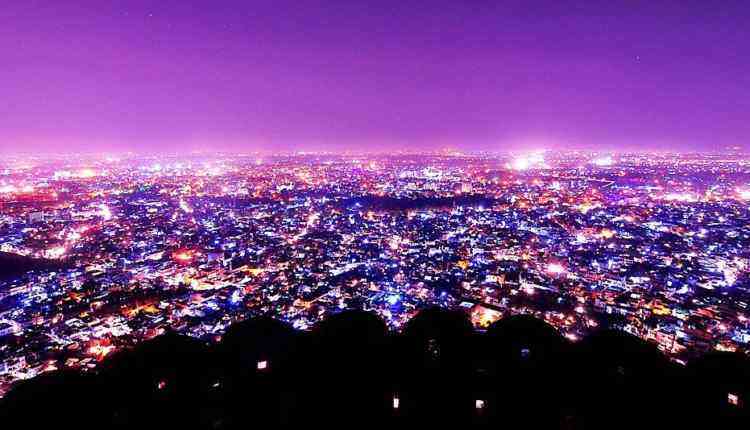 3. CHOKHI DHANI
If you want to feel the experience of real Rajasthani culture and it's rich heritage, then this place should top your list of places to visit in Jaipur. Chokhi Dhani is situated on 12 miles tonk road, Via Vagina. The village culture and lifestyle, paintings, Bani Thani art, wall decorations, Dipak wall, fresh air, evening performances of Rajasthani folk dances and songs, puppet shows, magic show and the light shows, the enthusiasm and the 'manuhar' ( mouth watering Rajasthani cuisine which you can relish up till you desire) is all you will get here and we assure you the ambience will be remembered every time you think about Rajasthan.
Traditional Rajasthani Dining Adult: 750/-per person Child: 450/-per person

(Height for kids from 2.5 feet up to 3.5 feet)

AC Royal Rajasthani Dining

Adult: 950/-per person Child: 500/-per person

(Height for kids from 2.5 feet up to 3.5 feet)

Multi-cuisine Buffet – Choupal Adult: 1,200/-per person Child: 800/-per person (Height for kids from 2.5 feet up to 3.5 feet) Timings: 5 pm to 11 pm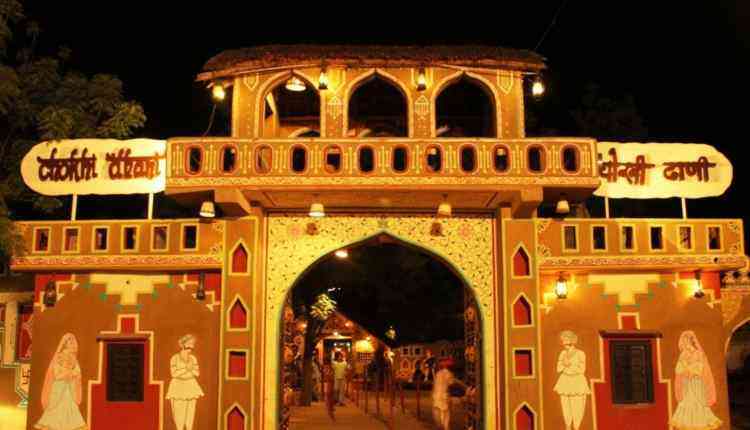 4. HAWA MAHAL
Ther pride of Jaipur, Hawa Mahal is situated at the heart of the city of Jaipur. This red and pink sandstone built beehive structure attracts a considerable number of tourists every day. The monument has about 953 jharokhas so that one can feel serene breeze passing by every time and hence the name Hawa Mahal. You can locate the Hawa Mahal on the main road near Badi Chaupar. Although the palace is closed in the evenings, still it is one of the best sites for photography lovers. You can click a good number of pictures at any time of the day. The stunning architecture of Hawa Mahal will add to the beauty of photographs. Entry fee for a visit during day time is Rs 50/- for Indian tourists while Rs 200/- for foreign tourists. The palace gets closed by 5:00 pm.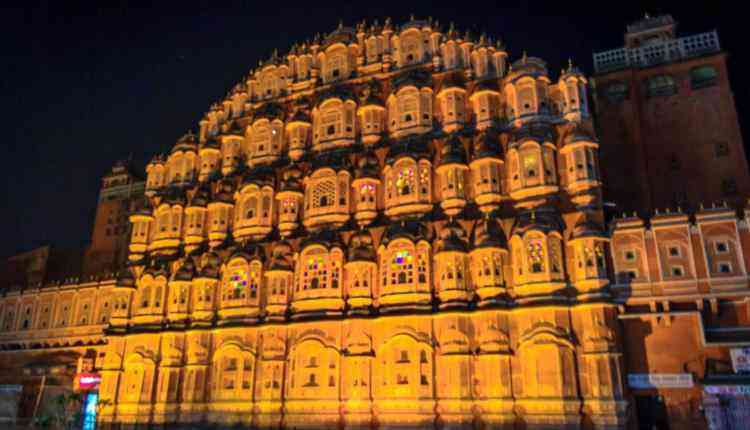 5. JAL MAHAL
Jal Mahal is a sparkling gem amidst the Man Sagar Lake which is an ultimate delight to the eyes. Although you are not allowed to enter the palace in the evening, the magical view of the castle in the twilight will leave you awestruck while a walk with your loved ones alongside the lake will be worth to remember. You can also have a relish of street side foods. Don't miss this enchanting view if you ever happen to visit Jaipur. It is around 5 km from the centre of the Jaipur city and easily accessible by autos and taxis. ENTRY FEE is RS 10/- FOR Indian tourists while rs 50/- for foreign nationals.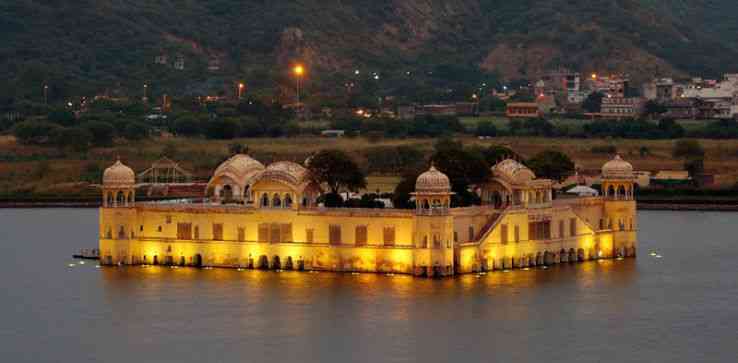 6. AMBER FORT AND PALACE
This magnificent sandstone structure is located about 11 km from Jaipur. Built in the craggy Aravalli hills, near the banks of the Maota lake and declared as UNESCO world heritage in 2013, this spectacular architectural beauty will leave the tourists spellbound when lit in the golden lights at night. It presents some beautiful and mind-blowing view shows that should not be missed at all. One can also enjoy Kathak dance performance by local artists. The six courtyards of the palace tell us the story of the kings and queens who lived in the bygone era. One can take an elephant ride that commutes through the fort.
Entry fees: INR 50 (adults) and INR 550 (Foreign national adult), students INR 10 Light shows: (per person) INR 200 (English) and INR 100 (Hindi) Timings: 9:00 AM- 6:00 PM.
Light show timings – English – Begins at 7:30 PM Hindi – Begins at 8:00 PM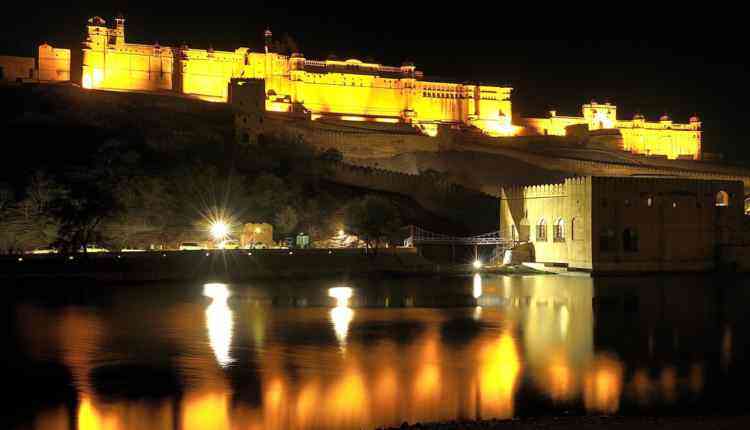 7. STATUE CIRCLE
It is located in Ashok Nagar near the central park is a memorial to pay tribute to the founder of Jaipur- Maharaja Sawaii Jay Singh II popularly known as statue circle. There is a magnificent white marble statue of the king holding an astrological picture. There is no entry fee for visiting this place. It is a perfect place to hang out with family and friends in the evening. There is always a hustle bustle of the crowd in the evening. The statue looks marvellous in the sparkling light and multiple fountains. One can also enjoy local delicacies by local vendors.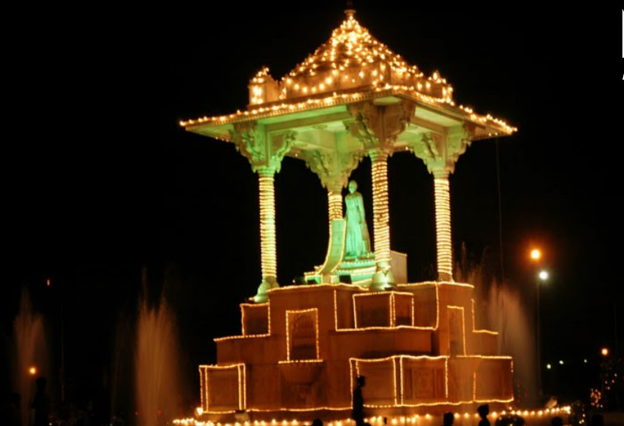 8. JAWAHAR CIRCLE
Jawahar circle honoured with Asia's most extensive circular work is a lovely place to spend some good time with family and friends. A huge musical fountain surrounds it. There is a circular well-paved walkway for morning joggers and evening walkers. There are benches to sit, lush green natural beauty, chowpati to have some spicy food and children's park with several swings and other play types of equipment. Every Sunday from 7 pm onwards, one can enjoy the colourful musical fountain that can present 270 different kinds of effects and reach up to a height of 25 feet. The fountain features about 360 bright lights which are treated to the eyes and can build memories for a lifetime.
Entry fee is Rs 10/- for Indian tourists and Rs 20/- for foreign visitors.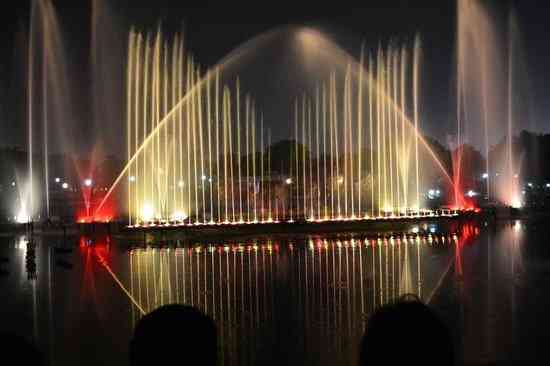 9. JAWAHAR KALA KENDRA
If you are a theatre and art lover, then this is the place where you will find the utmost satisfaction. One of the major tourist attraction of Jaipur this place is situated in the heart of the city in Jawaharlal Nehru Marg. A hub of Rajasthani art, craft and theatre have a mind-blowing architecture representing nine grids of the solar system. It has one open theatre, and two closed theatres were several artists of different genres as well as students gather to rehearse and improve their acting and dancing skills. Jawahar Kala Kendra also has two food points – shilpagram, which showcases Rajasthani village culture and traditions. They offer famous Rajasthani cuisine – Daal Bati Choorma at a very affordable rate. Another one is the Indian coffee house, which is a popular point for South Indian food items. Jawahar Kala Kendra also has a contemporary art gallery and museum. It is also a shopping point where shopping freaks can spend ample amount of time buying Rajasthani prints to Banarsi sarees to south silk and handmade crafts.
Timings: 10:00 am to 9 pm. Entry is free of cost.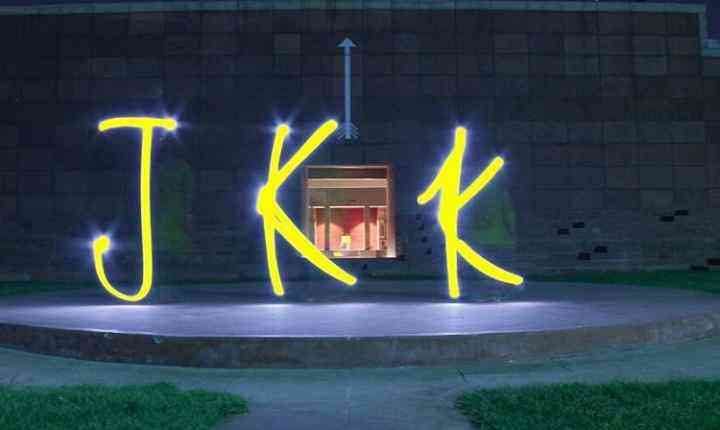 10. JAIPUR STOCK EXCHANGE BAR
Based on the concept of the stock exchange where prices of the drink keep fluctuating Jaipur stock exchange bar is a hit among the youngsters of Jaipur. Each day has an interesting concept and offers on food and drinks like one can avail special discounts on margarita Mondays or enjoy Jaipur beats on Tuesdays to music performances by leading bands on Wednesdays and ladies night on Thursdays and so on.
Timings : 12:00 pm to 1:00 am. costs- 2000 bucks with alcohol for two persons. Location – Grand Uniara, Jawaharlal Nehru Marg, Trimurti circle.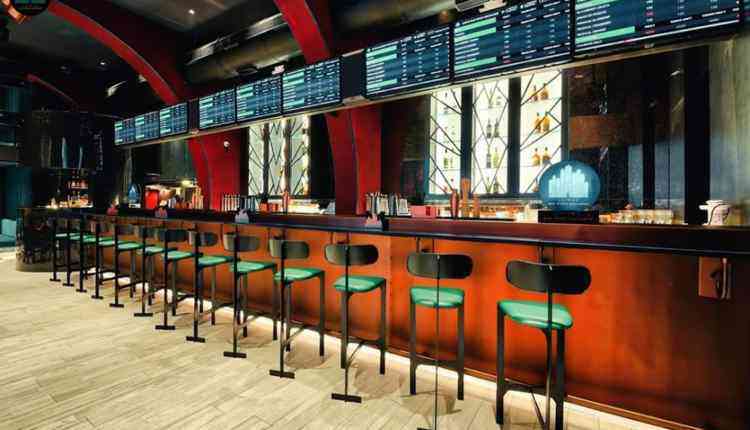 11. HOUSE OF PEOPLE
The aura of this night club is favourite among the fun-loving crowd who love to party hard dancing whole night on the groovy hip-hop music or enjoying some of the best Sufi music. House of people is famous for its finger foods, pizzas, pasta and chicken dishes that add to the exciting mood. The luxurious decor of the rooftop lounge is worth to spend time with an excellent place for hookah set up.
Entry per person is 1000/- for the couple- Rs. 1500/-
Timings : 11:00 pm to 1:00 am. location: Hotel Las Vegas, Bais Godam.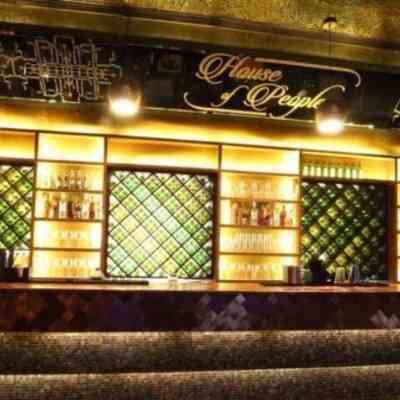 12. STEAM LOUNGE BAR
Steam Lounge bar beautifully designed within a steam engine that you won't believe that you are actually inside a steam engine! The restaurant is inside the lavish Taj Rambagh Palace. Victorian style station has been created with low slung couches, comfortable seating and plenty of space that you can relax with your family and friends and spend a wonderful evening with them. It offers one of the best Mediterranean cuisine and great quality drinks. However, the rates are equivalent to the five-star hotel, but the taste of food and overall aura is worth the money spent.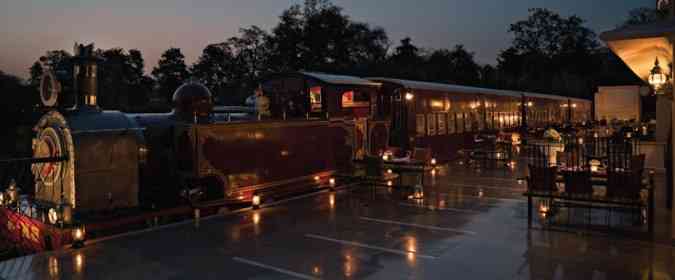 13. JOHARI BAZAR
If you are a shopaholic then undoubtedly you have reached one of the most remarkable shopping silhouettes of Jaipur. Johari Bazar is the largest and oldest jewellery market of India, which has the most fantastic collection of jewellery, bridal lehengas, salwar suits, stoles and homemade furnishing. But what will leave you speechless is the awesome designs of handmade jewellery, kundan, polki and enamel cut jewellery that is available at reasonable prices. It is open all the days of the week from 10:00 am to 11:00 pm. nearest bus stop is Badi chopar bus stop from where one can easily avail a cab or taxi to reach there.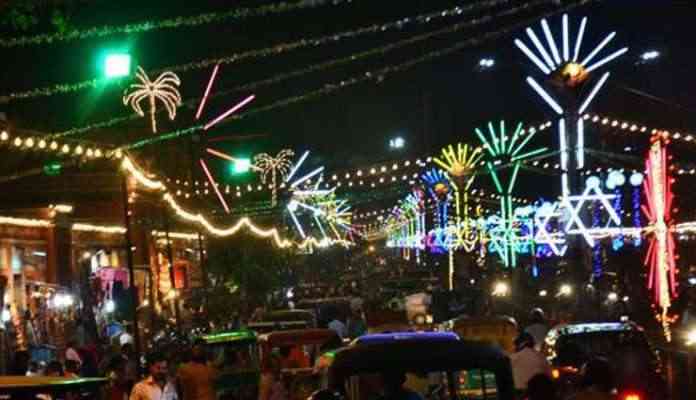 So these were some famous places of Jaipur- The Paris of India where you can chill out with your friends and family, especially at night and have a memorable holiday or vacation with them. All the best !!