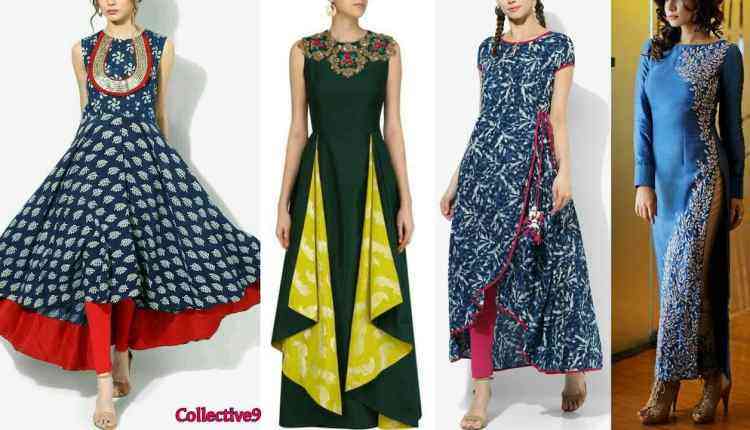 Courtesy: YouTube (Collective9)
Top 5 trending kurti design to ace the Puja Look this year
Best Indian Kurti Designs for Puja and Festivals
Now if there is one thing that we love during Puja (apart from the traditional rituals) it is the opportunity to flaunt one's apparel. And truly, everyone wants to look just the best. Contemporary patterns that have the right mix of traditional ethnicity encapsulated with a dash of modern touch, is every Fashionista's pick. Well with the season of festivities just around the corner, here is a curated list of top 5 trending Kurti designs that is sure to attract eyeballs.
Charismatic Cape Style kurti
Want to feel like a queen? Well the cape style kurti is aptly designed to help you adapt the perfect queen like look. With a layered pattern that beautifully draped down the arms, this Kurti emancipates an oomph factor which is simply mesmerizing. Go for netted capes to add an extra dose of ravishing appeal. For a dramatic look, choose contrasting shades or asymmetric pattern which is sure to create a unique style statement. Cape patterns come in different patterns –with small sleeved or long ones that have a flowy drapery. Both look utterly stunning and can instantly vibe your look for the occasion of Puja. In order to stand out, make sure to lay special emphasis on the cape – go for digital printed versions or intricately embroidered multi-coloured work that increases its appeal manifold. Team up this kurti with leggings, jeggings or ankle length bottoms to complete the ensemble. This dupatta free pattern makes the outfit more practical and comfier, making it a versatile piece.
Styling tips: Go for heavy danglers that are in sync with the pattern of the cape styled kurti. A single bracelet could be enough to complete the look. To add a dramatic appeal, go for statement ring, that have large chunks for acing the look. Nude shade stilettoes or strappy sandals could be the perfect footwear for this attire. Add in a clutch and you are good to go for any party.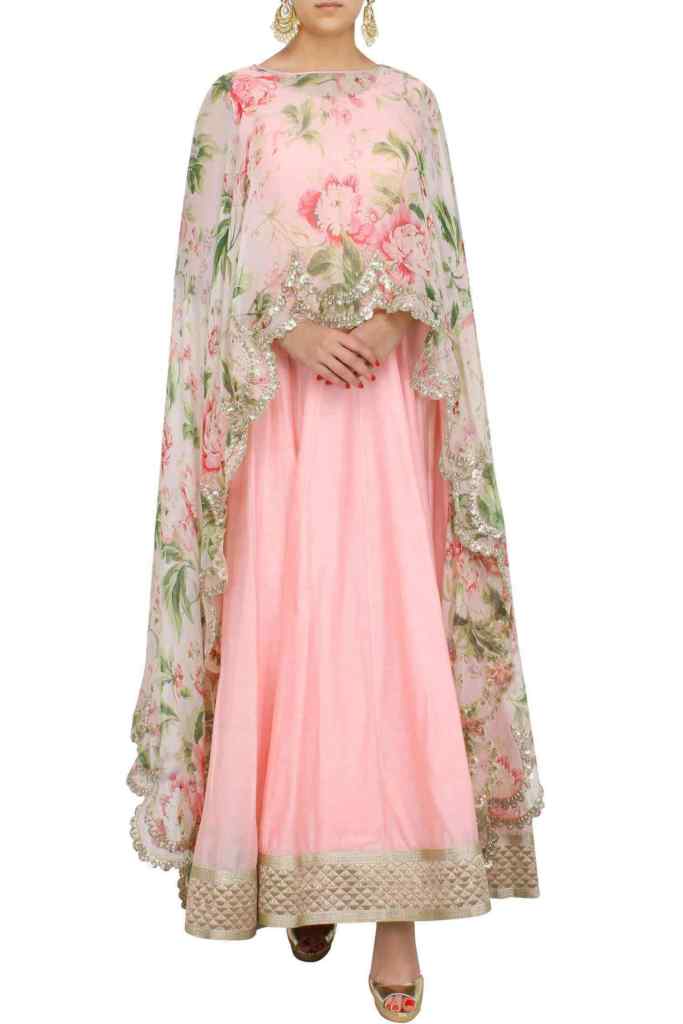 Trendy Gypsuit with Saree like drapery
For those who like saree but are not a big fan of making efforts for their drape and pleats, this one is a good choice. Try on the new look which is a perfect blend of comfort and style. Dhoti pleated pants with a short shirted kurti and a dupatta that drapes like a saree gives it a contemporary appeal. Oozing a comfort quotient along with a ravishing appearance, this one truly a trendsetter. Go for metallic colours or pastel shades along with contrasting shade drapery to create a mesmerising appeal. This piece can be donned for casual outings as well as for parties.
Styling tip: A bunch of metallic bangles on one hand can vibe the contemporary ethnic style. Stick to studs or minimalistic earrings. For a dramatic appeal goes for beaded chains that are in perfect sync with the entire. Complete your look with shoulder bags and platform heels.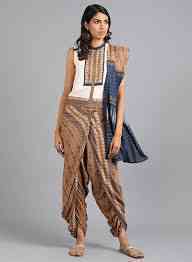 Enchanting off-shoulder kurti with palazzo
An uber chic and cool pattern which can be ideal for Puja festivities, is the off-shoulder kurti's. Adding spice to the monochromatic or the regular kurti's, off-shoulders instantly preps the look giving it a trendy edge. While monochromes look quite good, printed and embroidered patterns can also be opted for. A little modification can be opened armed patterns that also look stylish. To keep in line with the comfort quotient one can team it up with ankle length palazzo, in contrasting shades to make a smart piece. Ensure that the fit of the kurti is apt. Loads of off-shoulder patterns are in vogue these days, so browse through the palette of options before narrowing down to choices.
Styling tips: Chunky metallic earrings could be the best accessory with off- shoulder kurti. Keep your hands bare, or don on a wrist watch. A clutch or handbag can complement the look. A strappy sandal could be the perfect footwear to complete the ensemble.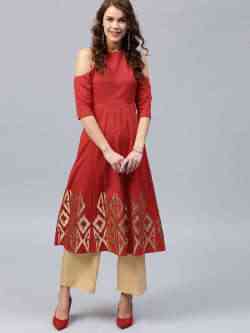 Uber chic Three-fold cut kurti with skirt
A key component, while selecting patterns are the cuts of the Kurti's. Gone are the days when the side slits ruled the fashion world. Today threefold cuts are the latest trend. It fits in well with the skirted pattern emancipating a feminist touch to the attire. Go for golden embroidery work if looking for party wear or choose from a range of digital prints like the ikkat, for a unique style. Drape in the dupatta in different formats to create diverse looks. Generally contrasting shades of kurti and skirt colours are selected but one is free to choose from the palette of shades for getting the vibrant look.
Styling tips: Playfully, drape the dupatta in different formats can do the trick to change your look. Keep in in hand, or drape it in saree like pattern, try the one that suits your personality. Since, the entire apparel is heavy at work, choose subtle jewel pieces to enhance the entire look.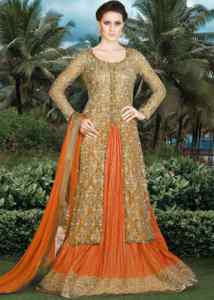 Elegant jacketed format Kurti
Layers have also added a pinch of charm and a chunk of elegance to one's look. And what better than donning a jacket over a kurti to give that feminine and bold look. Jacketed versions are available in plethora of designs. One can choose the basic small jackets that sort of complements the kurti in a crop top manner or one can select long kurti's that cover the entire lenth of the kurti adding a sensuous appeal. Tied up jackets or collared pattern jackets also look very cool and can be opted for. Generally, designer jacket in multi-coloured embroidery pattern are opted that enhance the plain or monochrome kurti's giving it a unique design and pattern. In fact, myriad design formats can be chosen to get different kinds of appeal. Jackets compliment the kurti and inevitably stands out as a popular pick amongst the fashionista's.
Styling tips: Since, the jacket is all embroidered and multi-coloured, one can go for the same type of multi-coloured accessories to complete the ensemble. So multi- coloured bangles or danglers could be an ideal pick. One popular bangle could be the threaded bangles which are quite in trend these days. Go for shoulder bags and jutti's which could add a vibrant touch.