In a few years, the idea of self-drive rental cars has gained a lot of popularity in India. The concept seems to have emerged internationally in the early 20th Century. However, it gained momentum in India during the last ten years with many startups emerging for providing rental cars.
The rental cars have a lot of benefits like there is no maintenance of the cars, there no insurance, one has an option to choose amongst the wide variety of cars and drive them as they please, one has the luxury of moving out anytime as they wish, there is no limit of passengers to two or more, and one has freedom during the drive. Another advantage of rental cars is that they are cost-effective for driving to faraway destinations and thus, perfect for travelling anywhere in India. There are various brands in India which provide rental cars at a much lower price.
5 brands in India that offer cars on rent with a self-drive at cheapest rates:
1. Zoomcar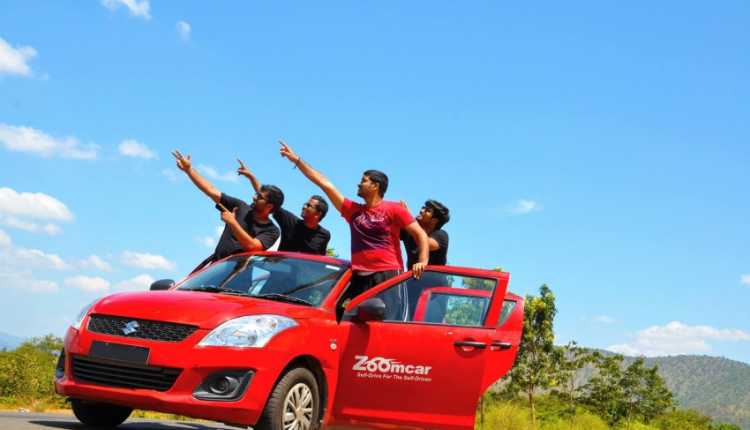 The Zoomcar, founded in Bengaluru in 2013, is a company that provides rental cars for self-drive in more than 45 cities in India. It has more than ten thousand cars across India, including SUVs, sedans and more. It has become the leading company in the car rental market.
The Zoomcar offers rental cars for a few hours, days, weeks, months or even years along with airport travel services to frequent travellers. The process of acquiring a car is quite easy. First, the car has to be booked online on the Zoomcar site or app, as available on Google Play Store and Apple Store. Then the car can be taken from the nearest Zoomcar parking station located in the closest vicinity of the user, or it can also be delivered at the house of the user at their wish. You might also be interested in the List Of 15 Useful Travel Apps For Your Travel Within India And Abroad.
It also provides 24×7 road assistance to all its customers for safe and stress-free driving.
Types of cars available:
Book a Hatchback for fares starting from just Rs. 40/hr. It includes cars like Ford Figo and Maruti Swift.
Book a stunning Sedan just at a price starting from Rs. 45/hr. It includes cars like Honda City and Maruti Ciaz.
Book an SUV for a price starting at just Rs. 55 per hr, includes cars like Ford Ecosport and Mahindra Scorpio.
Zoomcar has many happy and satisfied customers all across India and taken to be leading amongst all others.
2. Revv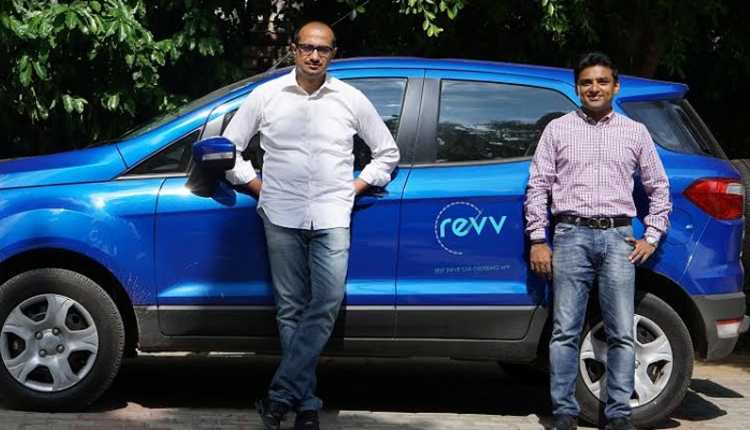 Revv is another leading company that offers rental cars for self-drive across various cities in India, and these include Ahmedabad, Bengaluru, Chandigarh, Chennai, Coimbatore, Delhi NCR, Hyderabad, Jaipur, Kochi, Kolkata, Mangalore, Mumbai, Mysore, Pune, Surat, Tirupati, Trivandrum, Vijayawada, and Vizag.
The fares of the ride start from ₹ 33 per hour, and one can choose from a wide variety of luxury and comfortable cars like Ford Aspire, Ford Eco Sport, Hyundai Grand i10, Honda City, Mahindra XUV, Mahindra Scorpio, Nissan Sunny, Toyota Innova Crysta & more. These can be rented for a few hours, days, weeks, months or even a few years easily.
The cars are delivered to the place of the user and are taken back from there as well. The cars can also be provided in one city and be taken away from others at the request of the user. All cars have All India Tourist Permit and can be driven anywhere in the country. Revv also provides 24×7 customer assistance to ensure a safe and hassle-free drive.
Along with renting a car for self-drive, Revv also provides the facility of buying the car from it. All it requires is to pay insurance as a down payment for the 1st year of purchase. Other services that it provides are the car rental services for airport or self-drive car rental service for a wedding.
The app is available both on Google Play Store and Apple Store. It is quite easy to use. One can reschedule or cancel bookings at any time of the day by using the app. Revv has grown a considerable network in India and is known for its commitment, efficiency and quality services.
Also, see Best Top 10 Hindu Religious Destinations In India To Travel.
3. Myles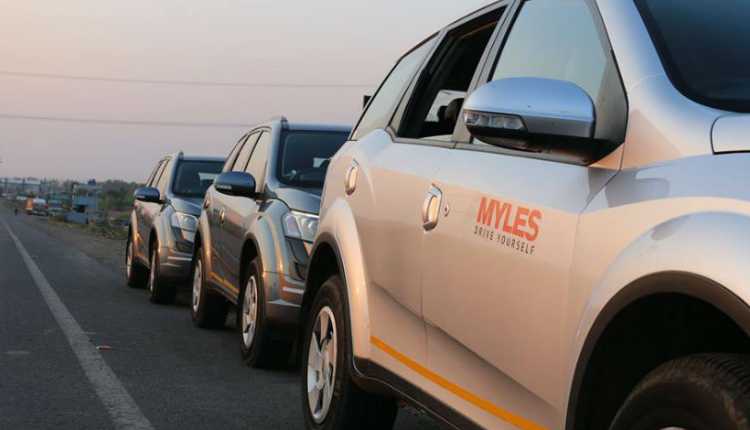 Established in 2013, Myles is another leading company that provides self-drive car rental in about 21 cities across India. It has more than 1 lakh customers and is believed to have covered a million miles, marking its massive success in the car rental market.
Myles has over 35 cars to choose from. Be it a hatchback, SUV or a Sedan, Myles has it all. It also has more than 250 pickup stations across different cities in India. Home delivery of cars is currently available in Delhi only but is expected to expand soon to other cities as well. One has the option to hire for a few hours, days, weeks, months or even a few years. The prices of car rental are quite low, starting from Rs.50 per hour with security charges starting at Rs.5000.
One can easily book a car online at https://www.mylescars.com/self-drive-car-rental-delhi or from the app at Google Play Store or Apple Store. The app and site are quite easy to use and provides efficient customer assistance to all its users.
4. Drivezy- Car, Bike & Scooter Rentals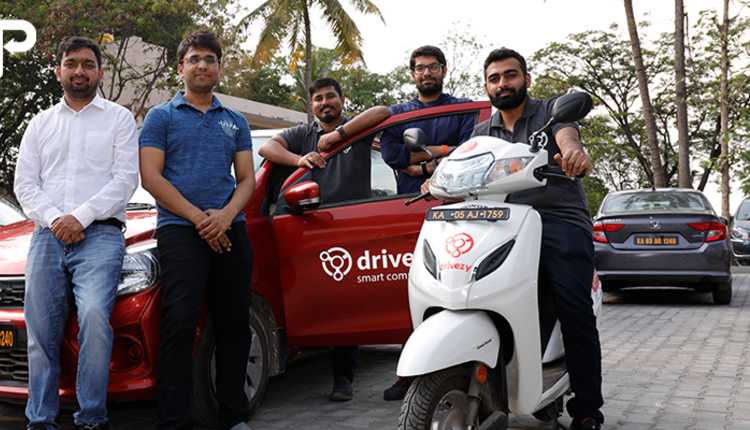 Founded in 2015, Drivezy not only rents cars but bikes and scooters as well. The company has more than 7,500 vehicles across more than seven cities in India.
For cars, it operates in 10 to 11 cities, which include-Bengaluru, Delhi, Hubli, Hyderabad, Mangaluru, Manipal, Mumbai, Mysuru, Nagpur and Pune. It also operates in the city of San Francisco, USA. For bikes and scooters, it works in the towns of Bengaluru, Hyderabad, Hubli, Mangaluru, Manipal, and Mysuru.
Drivezy rents cars, bikes and scooters at a low price with no security deposits and provides hassle-free service. One can book vehicles for a few hours, days, weeks, months or even a few years. It also offers services for transporting the car to one's place, and one can also give their vehicle for rentals in Drivezy.
The company ensures car and driver safety and thus, most of the cars are equipped with airbags and ABS.
It also has various offers and discounts for its new users. A new user can avail a discount of 10% on his or her new ride. It also pays its users for refuelling the cars (terms and conditions apply). It also provides expert customer service to make driving safe, hassle-free and enjoyable without any worries. Therefore, whatever the destination whatever the time, relax and ride from Drivezy.
One can book rides online or from the apps available on Google Play Store and Apple Store.
You might also be interested in 5 Things You Should Try Out The Next Time You Travel A Different City Or Country.
5. MyChoice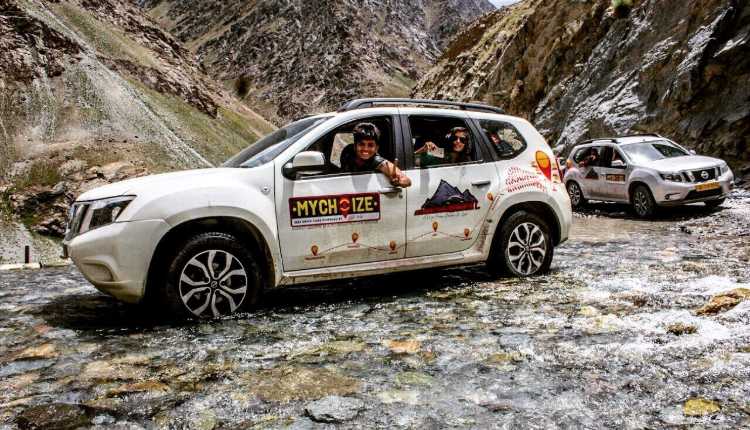 MyChoice is a renowned brand that started in 2016 and is owned by ORIX, which is Japan's second-largest self-drive car rental company. It is amongst the largest car rental companies in India. It currently operates in 16 cities in India which include Ahmedabad, Bangalore, Delhi-NCR (Gurgaon, Noida, Greater Noida, and Faridabad), Chandigarh, Chennai, Hyderabad, Indore, Jaipur, Kolkata, Mumbai, Pune, Surat, and Vadodara.
It rents various cars, from hatchbacks to sedans to SUVs to other luxury cars. These include:
Maruti Swift
Hyundai i10, Hyundai i20, Ford Figo Aspire, Maruti Swift Dzire
Mahindra Scorpio, Mahindra Scorpio (AT), Maruti Suzuki S Cross, Nissan Terrano, Renault Duster
Honda City, Honda City (AT), Nissan Sunny, Maruti Ertiga Hybrid, Maruti Ciaz
Mahindra XUV 500 W6, Mahindra XUV 500 W10, Toyota Fortuner, Toyota Camry Hybrid, Toyota Innova, Toyota Corolla
BMW 5 Series, Mercedes E Class and more
One can book cars for a few hours, weeks, days or months, and there are unlimited-kilometre rides on all bookings. The cars also get delivered to the doorstep of the customer and also have Airport services.
The service and technology provided to the customers are of international standards. One can book cars online or in the app.
Various other companies provide excellent, efficient services for self-drive rental cars. The market for self-drive rental cars is evolving and expanding a lot in India, with new users getting added every hour. One can avail of great offers and hassle-free ride from these renowned companies. Thus, pick up your phones and enjoy a stress-free private drive to any destination in India.